Life is full of uncertainties and it's important to be prepared for unexpected things like death. Having a funeral life insurance plan is an amazing way to secure the financial future of you and your family. Among many other available options, Brown Service Funeral Policy is an emerging choice for applicants. 
This policy stands out as unique as it focuses on the emotional and financial aspects of funeral planning. It provides a practical solution to ease the financial burden on your loved ones during hard times. In this blog post, we will explore what Brown Service Funeral Policy is, its features, and many other aspects related to it. Read the blog post to learn more about it. 
What is the Brown Service Funeral Policy? 
The Brown Service Funeral Plan is an insurance product that is specialized to cover the costs related to funeral expenses and arrangements. It aims to offer financial relief to your family at your demise while ensuring that your last farewell will be according to your wishes.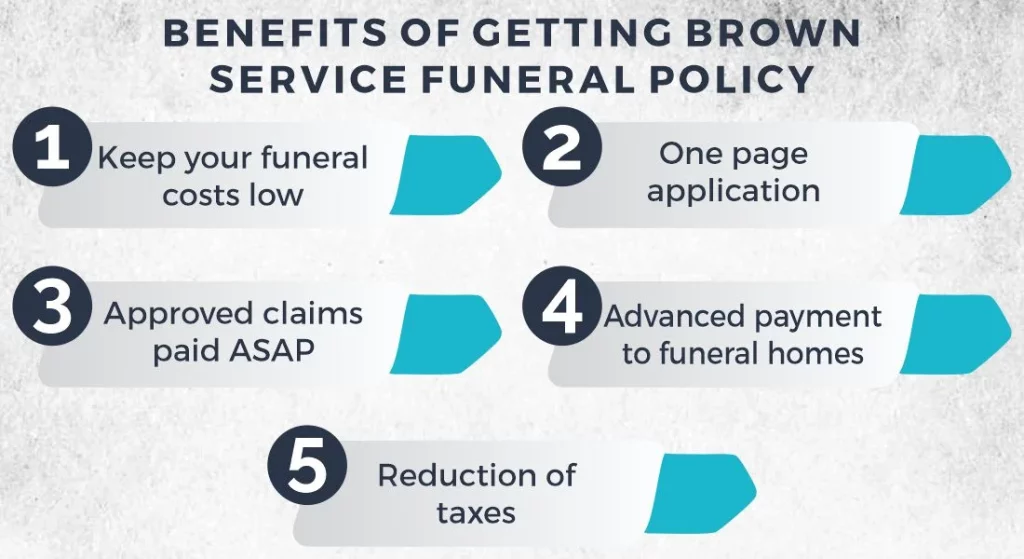 Key Features of Brown Service Funeral Policy
Here are some of the key features of this unique funeral policy:
1- Comprehensive Coverage Options 
The policy is very flexible in terms of coverage amount by allowing policyholders to align their plan with their distinctive preferences and requirements for a dignified and desired farewell. 
2- No Medical Exam 
One of the prominent features of this plan is that it doesn't require any medical exam or report from the applicant. So people having any pre-medical condition or health background can also avail of this policy without any hindrance. 
3- Quick Payout 
In case of an insured person's death, the aligned beneficiaries would get an instant payout. This swift disbursement helps families to cover funeral and other end-of-life expenses promptly, reducing financial stress during a difficult time. 
4- Flexible Premiums 
Brown Service Funeral Policy offers you the flexibility to choose premium payment intervals that suit your financial situation. This will make it easier to manage the plan while looking after their financial stability. 
5- Accumulated Cash Value 
Based on your policy terms and conditions, the Brown Service can also accumulate cash value for policyholders with time. In this way, it offers an additional resource for them and their beneficiaries. 
6- Expert Funeral Planning Assistance 
Many insurers offering this policy give access to professional funeral planning assistance. You can easily navigate the complex process of organizing a meaningful farewell for yourself even when you are alive. 
Is Brown Service Funeral Policy the right choice? 
Choosing the right insurance plan needs careful consideration of your circumstances, family dynamics, and personal requirements. If you want to secure your loved ones from financial stress in case of your sudden demise or if planning your funeral ceremonies, the Brown Service Funeral Policy could be an ideal fit for you. 
What are the differentiating factors between Brown Service Funeral Policy vs. other funeral services and general insurance? 
Here are some of the main differentiating factors between all these insurance plans. Let's have a look at them! 
1- Personalized Policy: Unlike other funeral services, the Brown policy gives tailored coverage to the insured. In this way, the policyholder can make their funeral arrangements according to their choices. This personalization is mostly not available in many traditional funeral planning services. 
2- Comprehensive: General insurance plans may not address funeral expenses directly, but Brown Service Funeral Plan does. It offers accessibility to everyone despite their health history, thus providing an option for those having pre-existing conditions. 
3- Instant Support: This policy gives swift payouts and offers immediate financial assistance to the beneficiaries, unlike standard funeral insurance. In such a way, it provides instant support by assisting with out-of-pocket expenses during a challenging time. 
4- Cash Value Component: Unlike other funeral services, this plan has an option for cash value accumulation that adds an element of long-term financial planning. So it gives a long-lasting advantage to beneficiaries aside from instant funeral costs. 
The Bottom Line 
The Brown Service Funeral Policy is emerging as a compassionate and comprehensive solution to many sensitive matters of funeral arrangements. It offers many unique features and benefits as compared to general insurance and basic funeral services. While knowing your specific needs and requirements, you can make an informed decision about whether this policy is the right choice for you. 
Frequently Asked Questions (FAQ)
1- Is it possible to customize your coverage with the Brown Service Funeral Plan? 
Yes, of course! You can choose your coverage amount according to your particular requirements and preferences. The policy allows you a tailored approach to funeral arrangements.  
2- How does this plan differ from other funeral plans? 
It does not require any medical examination from the applicant and also provides a range of coverage options. The policy also focuses on customized services, swift payouts, and additional advantages like cash value components. 
3- How do aligned beneficiaries get the payout?
After the death of an insured person, beneficiaries get an instant payout that provides them with financial support to cover the end-of-life expenses immediately.
4- Does someone with pre-existing conditions get this insurance plan?
Yes, the Brown Service Funeral Policy is accessible to individuals with pre-existing conditions as generally, it doesn't require any medical exam for approval. 
5- Is funeral planning assistance included? 
Yes, as the insurance plan is all about funeral expenses and their cost, the applicants can access professional funeral planning assistance.