As life journeys toward its final destination, there's one certainty we all must confront: the inevitability of our own passing. While it's a subject that often invokes mixed emotions, responsible planning can ease the burden on our loved ones and ensure a dignified farewell.
Cremation insurance, also known as final expense insurance or burial insurance, stands as a sensible choice for seniors who wish to alleviate the financial strain on their families during a challenging time. This type of insurance provides a practical solution, offering coverage tailored to the specific needs of seniors, with simplicity and affordability at its core.
In this blog post, we'll explore the complexities of cremation insurance, from understanding what it entails to why seniors should consider it, the best cremation insurance plans in the market, how it operates, what it covers, and the practical aspects of cost and selection.
So, let's start exploring the world of cremation insurance for seniors and discovering the practical benefits it can offer for both the insured and their loved ones.
What Is Cremation Insurance Policy?
A cremation insurance policy, also known as final expense insurance or burial insurance, is a type of specialized life insurance designed to cover the specific costs associated with cremation, funeral services, and other end-of-life expenses. This insurance policy is typically aimed at seniors and is intended to provide financial protection for the policyholder and their loved ones during a challenging time.
Unlike traditional life insurance policies, cremation insurance for seniors is tailored to meet the specific needs of seniors, offering smaller coverage amounts and simplified underwriting processes.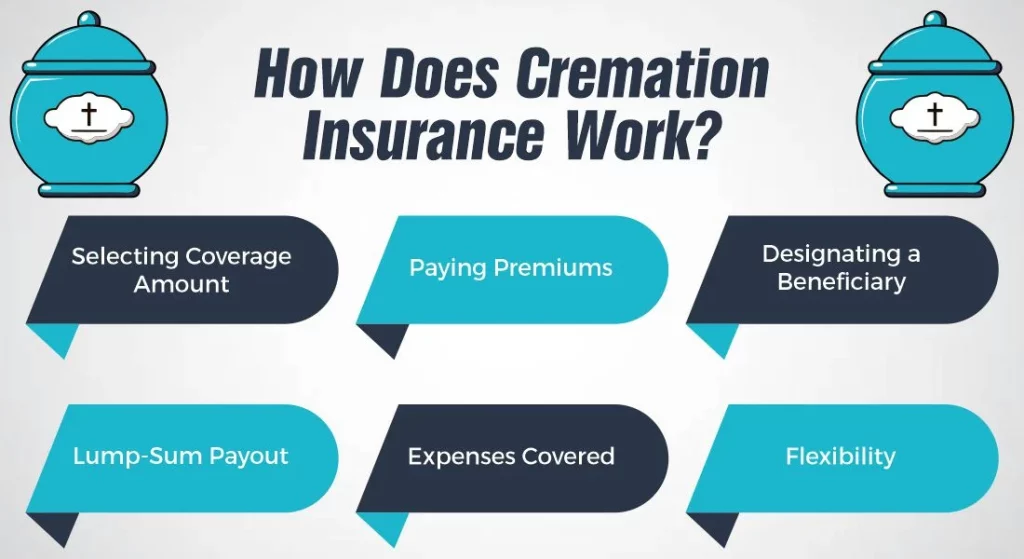 How does cremation insurance work?
Cremation insurance operates much like traditional life insurance policies but with a specific focus on covering the costs associated with cremation and end-of-life expenses. Here's a detailed look at how cremation insurance works:
Selecting Coverage Amount
The process begins with the policyholder choosing a coverage amount that aligns with their anticipated cremation and funeral costs. These policies typically offer coverage ranging from a few thousand dollars to around $25,000. The chosen coverage amount determines the maximum benefit that will be paid out upon the policyholder's death.
Paying Premiums
To maintain the cremation insurance policy, the policyholder pays regular premiums. These premiums can be structured as monthly, quarterly, semi-annual, or annual payments, depending on the terms of the policy and the policyholder's preference. Premiums are paid throughout the policy's duration.
Designating a Beneficiary
The policyholder designates a beneficiary who will receive the insurance payout upon the policyholder's passing. This beneficiary is typically a trusted family member or loved one who will be responsible for using the funds to cover the cremation and related expenses.
Lump-Sum Payout
When the policyholder passes away, the cremation insurance policy provides a lump-sum payout to the designated beneficiary. This payout is typically free from income tax and can be accessed quickly, allowing the beneficiary to cover the costs associated with the policyholder's end-of-life arrangements.
Expenses Covered
The funds from the policy can be used to cover various expenses, including cremation services, funeral costs, urns, memorial services, transportation, and even medical bills that may have accumulated during the policyholder's final days.
Flexibility
Some cremation insurance policies offer flexibility in how the payout is allocated. Policyholders may have the option to specify certain wishes, such as directing a portion of the funds toward charitable donations or covering travel expenses for family members attending the funeral.
Overall, cremation insurance provides a practical and financial solution for seniors to ensure that their end-of-life expenses are covered without imposing a significant financial burden on their loved ones. It allows for a dignified farewell and offers financial peace of mind during a challenging time.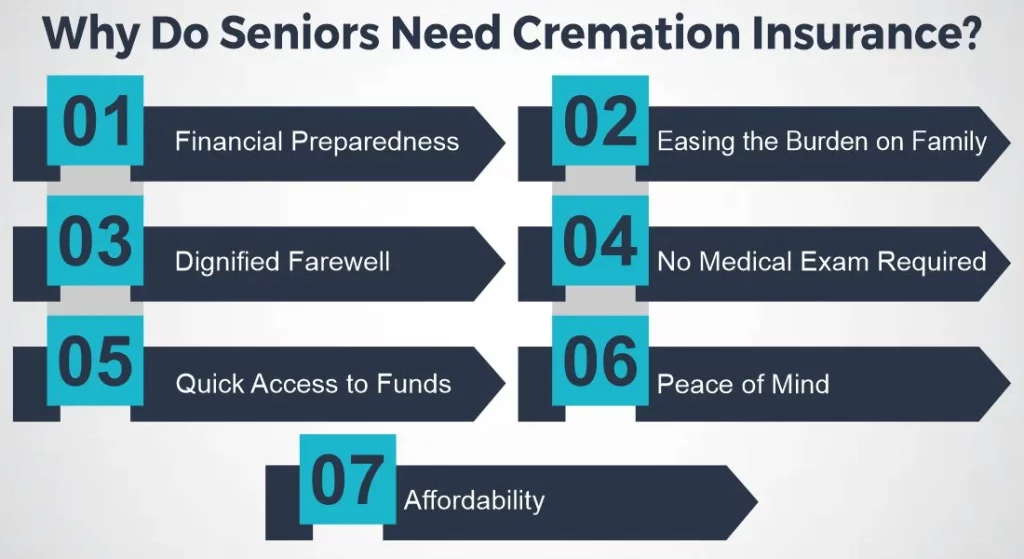 Why Do Seniors Need Cremation Insurance?
Seniors may find cremation insurance to be a practical and responsible financial tool for several compelling reasons:
Financial Preparedness: Cremation insurance for seniors allow them to plan ahead and financially prepare for their end-of-life expenses. It ensures that the financial burden of cremation and related costs is not passed on to their loved ones during an emotionally challenging time.
Easing the Burden on Family: Funerals and cremation services can be costly, and unexpected expenses can place a significant strain on family members. Seniors who have cremation insurance alleviate this burden, providing their families with financial relief during the grieving process.
Dignified Farewell: Cremation insurance enables seniors to have the final say in their end-of-life arrangements. It ensures that their wishes for a dignified and respectful farewell are respected, as the funds can cover specific preferences and services.
No Medical Exam Required: Many cremation insurance policies offer simplified underwriting processes. This means that seniors with varying health conditions can secure coverage without the need for a detailed medical examination, making it accessible to a broader range of individuals.
Affordability: Cremation insurance policies typically offer coverage amounts that are smaller than traditional life insurance policies. The premiums are often more affordable, allowing seniors to secure coverage within their budget.
Quick Access to Funds: Upon the policyholder's passing, the beneficiary receives a lump-sum payout relatively quickly. This ensures that the necessary funds are available promptly to cover the cremation and funeral expenses without delays.
Peace of Mind: Cremation insurance provides peace of mind to seniors, knowing that they have taken proactive steps to address their financial responsibilities and provide for their loved ones in a practical and responsible manner.
In a nutshell, seniors opt for cremation insurance to ensure financial preparedness, ease the burden on their families, maintain control over their end-of-life arrangements, and achieve peace of mind. 
Best Cremation Insurance Plans for Seniors
Selecting the best cremation insurance plan for your needs involves considering various factors, including coverage options, premiums, the reputation of the insurance provider, and your specific requirements. Here are some of the top cremation insurance for seniors that may be suitable for them:
AARP
AARP offers a variety of insurance products, including cremation insurance, through New York Life Insurance Company. Their policies are tailored to meet the needs of seniors, offering coverage amounts up to $25,000. AARP is known for its trusted reputation and member benefits.
Colonial Penn
Colonial Penn specializes in final expense insurance, making it a popular choice for cremation insurance. They provide coverage amounts from $5,000 to $50,000, with no medical exam required for certain plans. Their policies are accessible and budget-friendly.
Mutual of Omaha
Mutual of Omaha offers a Guaranteed Whole Life Insurance policy that is often chosen for cremation insurance. They provide coverage up to $25,000, and their policies come with level premiums, meaning the premium amount remains the same throughout the policy's duration.
Gerber Life Insurance
Gerber Life offers the Gerber Guaranteed Life Insurance Plan, which provides coverage up to $25,000 for seniors. Their policies are available to individuals between the ages of 50 and 80 and feature simplified underwriting.
Foresters Financial
Foresters Financial offers PlanRight Whole Life Insurance, designed to cover funeral and cremation expenses. They provide coverage amounts ranging from $5,000 to $35,000 and have a strong emphasis on financial security.
Transamerica
Transamerica's Immediate Solution Plan offers coverage up to $50,000 with simplified underwriting. They provide a quick and easy application process, making it accessible for seniors.
Liberty Bankers Life
Liberty Bankers Life offers several final expense insurance options, including cremation insurance. Their policies offer coverage amounts up to $25,000 and come with no medical exam requirements for certain plans.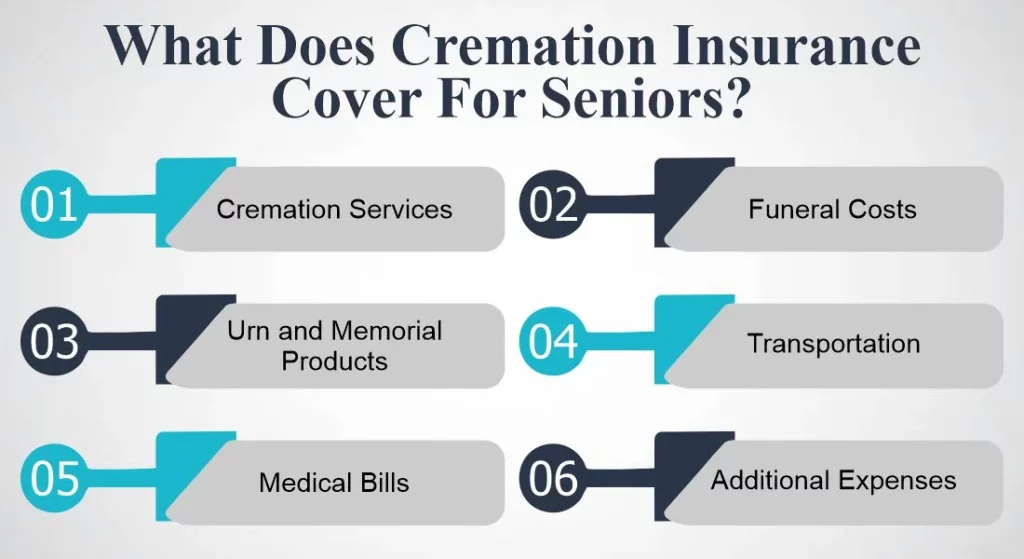 What does cremation insurance cover for seniors?
Cremation insurance for seniors typically covers a range of expenses associated with end-of-life arrangements, ensuring a dignified farewell without placing a significant financial burden on their loved ones. Here's what cremation insurance typically covers:
Cremation Services: The primary purpose of cremation insurance is to cover the costs of cremation itself. This includes the cremation process, the use of the crematory facilities, and the preparation of the remains for placement in an urn.
Funeral Costs: Cremation insurance often extends to cover various funeral-related expenses. This may include fees for memorial services, visitations, and the services of a funeral director.
Urn and Memorial Products: The policy funds can purchase an urn or other memorial products like keepsake urns, memorial jewelry, or memorial plaques.
Transportation: Some policies cover transportation costs, including the transfer of the remains to the crematory and any necessary transportation for the deceased.
Medical Bills: In some cases, cremation insurance policies may cover outstanding medical bills incurred during the deceased's final days. This can be especially helpful for families dealing with medical expenses.
Additional Expenses: Depending on the policy, there may be provisions for other related expenses, such as the cost of a death certificate, obituary notices, or burial permits.
However, reviewing your chosen cremation insurance policy's specific terms and conditions is essential to understand coverage, limitations, or exclusions. Policies may vary among insurance providers, so it's crucial to select a policy that aligns with your preferences and covers the specific expenses you wish to address. 
How much does cremation Insurance policies cost?
The cost of cremation insurance policies can vary widely based on several factors, including the age of the policyholder, gender, health, the coverage amount, and the insurance company. To provide you with a general idea of the monthly premium costs for cremation insurance policies, here's a table with sample rates:
| Age | Female Monthly Premium | Male Monthly Premium | Coverage Amount |
| --- | --- | --- | --- |
| 50 | $20 – $30 | $25 – $35 | $5,000 – $10,000 |
| 60 | $30 – $40 | $35 – $45 | $5,000 – $10,000 |
| 70 | $40 – $50 | $45 – $55 | $5,000 – $10,000 |
| 80 | $50 – $70 | $60 – $80 | $5,000 – $10,000 |
Please note that these are approximate monthly premium ranges for cremation insurance policies with coverage amounts typically ranging from $5,000 to $10,000. The actual premium costs may vary based on individual circumstances, such as the policyholder's health, smoking status, and the specific insurance provider's underwriting criteria.
Additionally, some policies may offer higher coverage amounts, which can result in higher premiums. It's advisable to request quotes from multiple insurance companies or consult with an insurance agent to obtain accurate pricing tailored to your unique situation and coverage preferences.
How to find Best Cremation Insurance Policies ?
Finding the best cremation insurance policy involves considering your unique needs and preferences. Here are steps to help you find the best cremation insurance policies:
Assess Your Needs and Budget: Begin by evaluating your specific financial situation, budget, and coverage needs. Determine how much coverage you require to cover cremation and related expenses.
Research Insurance Providers: Research reputable insurance providers that offer cremation insurance policies. Look for companies with a strong financial rating and a history of reliable service.
Compare Coverage Options: Compare the coverage options offered by different insurance providers. Consider factors such as coverage amounts, premium costs, and any additional features or benefits.
Understand Policy Terms: Read and thoroughly understand the terms and conditions of each policy you consider. Pay attention to any limitations, exclusions, and how premiums may change over time.
Review Underwriting Requirements: Check the underwriting requirements for each policy. Some cremation insurance policies have simplified underwriting processes, making them more accessible for seniors.
Get Multiple Quotes: Request quotes from multiple insurance providers. This will help you compare premiums and coverage options to find the most competitive rates.
Read Reviews and Seek Recommendations: Look for customer reviews and seek recommendations from friends or family members who have purchased cremation insurance. Feedback from others can be valuable in making your decision.
Consider Additional Benefits: Some policies may offer additional benefits, such as living benefits or the option to purchase coverage for a spouse or family members. Evaluate these extras based on your needs.
Review Customer Service: Investigate the customer service reputation of the insurance provider. Prompt and helpful customer service can be essential during the claims process.
Read Policy Reviews and Ratings: Look for independent reviews and ratings of the policies and providers you're considering. Organizations like A.M. Best and J.D. Power can provide valuable insights.
Consult an Insurance Agent: Consider working with an experienced insurance agent or broker who specializes in final expense insurance. They can provide expert guidance and help you navigate the selection process.
Follow steps, research to secure the best cremation insurance for seniors, ensuring peace of mind for end-of-life plans