Life insurance is a great way to secure your family financially. Whenever it comes to choosing a life insurance plan few decisions are as crucial as choosing the right policy and life insurance provider. 
A lot of excellent companies are available nowadays, however, the right insurer for you depends on your age, health, and the coverage you need. MetLife and New York Life Insurance are two prominent names in the insurance industry, each with its own strengths and weaknesses. 
In this article, we will compare Metlife vs New York life insurance to help you make an informed decision about which one may be the better fit for your needs. Let's find out! 
Understand the basics of both MetLife & New York Life Insurance
MetLife 
MetLife, short for Metropolitan Life Insurance Company, is one of the largest and most recognized insurance companies in the United States of America. With over 150 years of experience, MetLife has built a strong reputation for providing a wide range of insurance and financial products, including life insurance, annuities, and employee benefits. They serve millions of customers globally and have a robust network of agents and financial professionals.
New York Life Insurance
New York Life Insurance Company, founded in 1845, is another big name in the insurance industry. It is one of the oldest mutual life insurance companies in the country. New York Life focuses on life insurance, annuities, and retirement planning. Their commitment to policyholders and financial stability has earned them a stellar reputation.
Background on Metlife and New York Life Insurance 
Metlife Insurance: MetLife, founded in 1868, goes past NYL in size and is a worldwide insurance giant. Holding top ratings from A.M. Best, MetLife has established itself as a reliable choice with no concerns of standing near and threatening. MetLife has gathered many awards for its diverse insurance options and exceptional customer service.
New York Life Insurance: New York Life (NYL) claims the title of the largest mutual life insurance company in the U.S. and a worldwide giant since its establishment in 1845. Earning excellent ratings from A.M. Best, a trusted ratings company, NYL sits among the world's largest insurers. While NYL might not feature the most competitive rates, it also avoids being separated and labeled among the most expensive options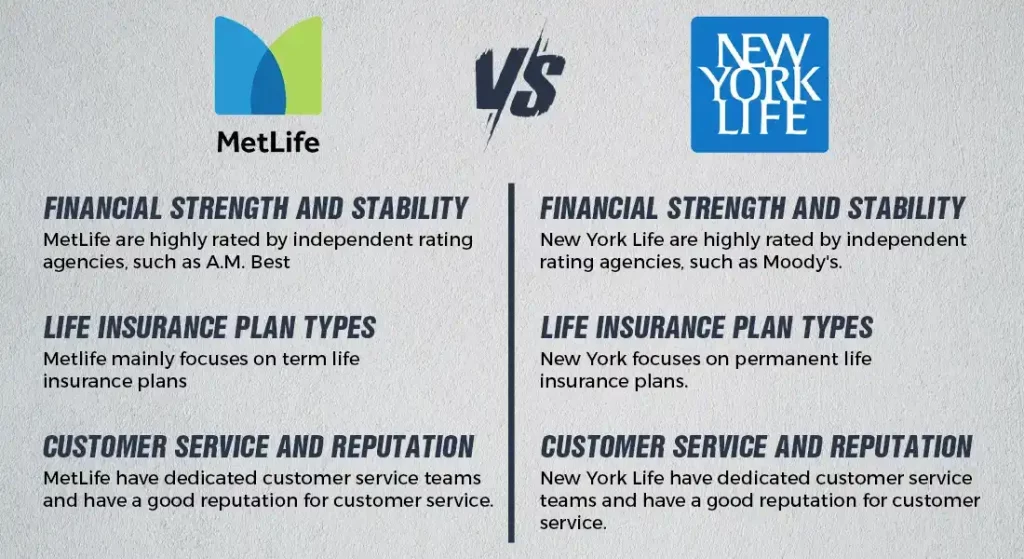 MetLife vs New York Life Insurance
Now that we have a brief overview let's do the comparison of MetLife vs New York Life Insurance: 
1- Financial Strength and Stability
When choosing an insurance provider, it's essential to consider their financial strength. After all, you want the assurance that your loved ones will be taken care of when the time comes. Both MetLife and New York Life are highly rated by independent rating agencies, such as A.M. Best and Moody's. They have a strong track record of fulfilling their financial commitments to policyholders. So, in terms of financial stability, you can trust both companies.
2- Product Offerings
MetLife and New York Life offer a range of life insurance products, including term life, whole life, and universal life insurance. However, their product offerings may differ slightly in terms of features and options. It's essential to carefully compare the specific policies offered by both companies to see which aligns better with your needs and goals.
3- Customer Service and Reputation
Customer service and reputation are vital factors to consider when choosing an insurance company. Both MetLife and New York Life have dedicated customer service teams and a long history of serving their policyholders. You can find positive and negative reviews for any company, but overall, both of these insurers have a good reputation for customer service.
4- Life Insurance Plan Types 
The debate between life insurance types term vs permanent life insurance is quite common. However, the main difference between Metlife and New York life insurance is that Mlife focuses on term life insurance while New York focuses more on permanent life insurance plans. 
5- Premium Costs
The cost of premiums is a significant consideration for most individuals and families. Life insurance policy premiums can vary widely based on factors like age, health, coverage amount, and policy type. To determine which company offers more competitive rates for your specific circumstances, it's advisable to obtain quotes from both companies and compare Metlife rates and New York rates. In addition, you can also consult with an insurance agent who can provide you with personalized quotes.
6- Policy Riders and Customization
Life insurance policies can often be customized with riders that add additional benefits or features. These can include options for accelerated death benefits, accidental death coverage, and more. Be sure to review the available policy riders from both MetLife and New York Life to see which company offers the riders that align with your needs.
7- Underwriting Guidelines
Insurance companies have different underwriting guidelines, which can impact your eligibility for coverage and the rates you'll pay. It's crucial to understand the underwriting requirements of both MetLife and New York Life to determine which one is more likely to approve your application. Furthermore, Metlife rates as well as New York rates are very competitive based on your individual health and lifestyle factors.
MetLife vs New York Life: Which Is Better?
New York Life, status as the biggest mutual lifestyles insurance agency within the United States in view that its established order in 1845, has always gathered peak ratings from A.M. Best over the years.
On the different hand, MetLife, an amazing inventory company founded in 1868, has also secured its area some the international's biggest coverage companies. In a strategic move in January 2016, MetLife shifted its focus, announcing a halt to new person lifestyles insurance rules via stores. This led to the start of Brighthouse Financial in March 2017.
Fast forward to now, Brighthouse has developed into a Fortune 500 company and stands tall as one of the leading lifestyles insurance carriers inside the United States, boasting an excellent A rating from A.M. Best.
Both New York Life and MetLife have earned complements a lot for the diverse options and excellent offerings they increase to customers
MetLife or New York Life Insurance: Which Makes Sense?
The decision between MetLife vs. New York Life Insurance ultimately comes down to your specific needs and preferences. Both companies have a long history of financial stability, a range of life insurance products, and good customer service. To determine which one is better for you, consider factors like premium costs, policy offerings, and any unique circumstances you may have, such as pre-existing health conditions.
It's worth noting that there's no one-size-fits-all answer to this question. What works for one person may not be the best choice for another. Therefore, it's advisable to consult with a knowledgeable insurance agent who can help you navigate the options and find the policy that aligns best with your financial goals and family's needs. 
Discovering the Digital Advancements in Metlife vs. New York Life Life Insurance
App Adventures
In brand new tech-savvy world, mobile apps make lifestyles insurance a breeze. Metlife and New York Life each offer handy apps, letting you peek at your coverage, pay premiums, check claims, and discussion with aid. Pick the insurer whose app suits your digital style.
Online Ease
Managing your coverage on-line subjects too. Metlife and New York Life have user-pleasant doorways in which you can adjust information, read rules, and do account stuff. A easy on line adventure is basic, so pick out the insurer with the easiest virtual path.
Digital Tools Boost
Tech wizards at Metlife and New York Life have cool on-line tools. They share know-how on insurance, crunch numbers with calculators, and guide your economic path. Take a peek at those virtual candies to select the insurer that fits your information-hungry side.
The Bottom Line 
In the end, the "better" choice between MetLife and New York Life Insurance depends on your circumstances and priorities. Whichever company you choose, the most important thing is to secure the protection and peace of mind that life insurance provides for you and your loved ones.